Alternative Investment Management, Made Easy!
Vantage Software™ offers comprehensive and intuitive solutions for alternative investment firms to manage their operations.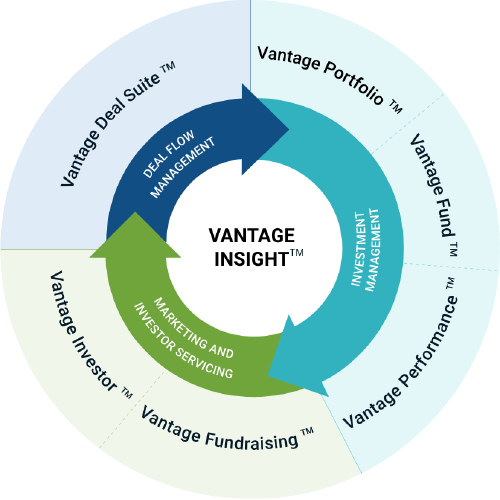 DIFFERENT INDUSTRIES . DIFFERENT PERSPECTIVES
Comprehensive Solutions
for Alternative Investment Firms
to Manage Operations Better!
Vantage Software offers state-of-the-art software solutions for global investment firms that manage in excess of a trillion dollars, helping them effectively monitor their investments, streamline accounting and reporting, collaborate on deal flow and strengthen investor relationships.
Our clients manage over $1 Trillion in private equity, venture capital and real-estate investments. We specialize in investor portal and accounting, reporting, contact management, portfolio monitoring and deal flow solutions.

Advisory Consulting
Client preference and mandate tracking for discretionary and non-discretionary investing.
Benefits of our software product suite and serivces

Enhanced Reporting​
On-time report generation and distribution capabilities

Increase Transparency​
Self-Service investor portal with robust dashboard capabilities to improve communication

Improve Efficiency​
Analyze data across different departments and asset classes.

Increase Accuracy
Remove dependence on excel file to avoid human error and improve accuracy

Reduce Risk ​
Remove the risk by automating data collection, data management and reporting

Excellent Customer Support
Superior customer support to delight your team and investors
Vantage has drastically improved our analysis, accounting, and investor reporting.  Vantage's modular products and careful attention during implementation have contributed to a top-notch experience.

Jess Downer, CFA,
Principal
Meketa Investment Group, Inc.​
Recent updates to Vantage's investor service platform have streamlined our processes significantly, especially during quarterly investor updates and annual tax reporting."

Gabriel Bousbib,
COO
Arel Capital
Vantage Software offers state-of-the-art deal management, investor relations and portfolio performance solutions to global investment managers that manage in excess of a trillion dollars. Vantage Software offers a leading financial accounting and performance analysis products in addition to leading intelligent research solutions for superior investments research and analysis.